Premium Business Cards on Sale- 50% OFF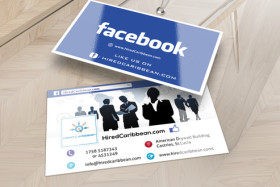 Double Your Quantity of Business Cards for FREE. 250 Double Sided Business Cards for only $125.00EC!
250 Business Cards – $125.00EC
500 Business Cards – $225.00EC
1000 Business Cards – $400.00EC
2000 Business Cards – $700.00EC
5000 Business Cards – $1500.00EC
10,000 Business Cards – $2500.00EC
Business Card Finish upgrade available:
Premium Glossy- +$50.00EC
Premium Matte- +$60.00EC
Foil Accent- +$75.00EC
Raised Print- +$80.00EC
Metal Business Card Holders- $50.00EC
Contact us: Alfiona Plaza
Rodney Bay, Saint Lucia
(758)720-9903 or (758)518-7343
Email- info@alphainnovagroup.com
Business Cards Are Still Necessary
Why use business cards? Because the old-fashioned paper rectangle is still the fastest and easiest way to share business contact information with other businesspeople and with prospective customers and clients. Even in this digital age, they're still one of the best ways to remind people about your small business – and therefore, to get business.
Paper Stock:
With our new heavyweight paper stocks, your card will look fantastic. Make it really pop with our new premium matte paper or glossy stock.
Matte Stock
Get your message out there with this new and improved base stock.Premium Matte Stock
Super improved! Get a distinguished, heavier stock. It's thicker and sturdier than our matte stock.Premium Glossy Stock
Add a high-gloss to the front of your card to brighten colors. Make your logo or photo stand out.
 Recycled Matte Stock
100% Post-Consumer Waste, 100-lb. Premium Matte Recycled Paper
Premium paper is used for our Brilliant Finishes: Raised Print, Spot Gloss and Metallic
Three business card must-haves
An effective business card should have:
1) Job Title.
Tell contacts who you are and what you do.
2) Contact Information.
Include a phone number, email, website and social media profiles.
3) A Visual with Breathability.
Allow for white space in the design.